Barossa Wine Auction 2021 the best ever!
Thursday, May 6, 2021 in News
That's a wrap! The hammer has fallen on the last lot at the Barossa Wine Auction 2021. This has been the biggest Barossa Wine Auction, beating all previous records. The results were driven in part by super large formats from Charles Melton, Chris Ringland, Rockford and Penfolds (to name but a few) as well as unique experiences from Henschke, Rieslingfreak and more. The key driver was, of course, the enduring appeal of the Barossa.

See the results here.
The audiences of enthusiastic Barossa-lovers delivered record numbers with sales reaching just over $333,700 – the highest results in the event's 56-year history.
'the best live auction I have ever presided over.'
Andrew Caillard MW
The Barossa Wine Auction dinner was held in Sydney on the 29th of April at the Hyatt Regency ( watch the recording here). Our MC for the evening was Jane Thomson with Langton's Head of Auctions Tamara Grischy opening the auction and Master of Wine and Baron of the Barossa Andrew Caillard closing proceedings, calling the event, 'the best live auction I have ever presided over.'
Barossa Wine Auction (Sydney) Highlights
Penfolds Bin 95 Grange Double Magnum 2015
$22,135

Rockford Basket Press Shiraz 2010 Imperial
$11,650

Standish Wine Co The Standish Shiraz Imperial 2003
$6,990

John Duval Wines Entity Shiraz 6 Magnum Collection 2004, 2015, 2006, 2010, 2012, 2017
$3,495

Torbreck The Laird Shiraz Imperial 2013
$15,145

Note: all sales figures include buyer's premium.
To call some of these lots 'hard to find' would be an understatement. Penfolds could easily find a retail market for their super large format wines, Bin 95 Grange in particular. But these limited bottlings are held in reserve for special events like the Barossa Wine Auction of which Penfolds is a long-time supporter. When Lot No. S23—a 6 litre Imperial of 2010 Rockford Basket Press—was presented to the audience there was palpable excitement in the room while those keenest of bidders squashed their table in vain so as not to miss a bid. It ended up fetching more than six times its low estimate. That is going to be one fun dinner party!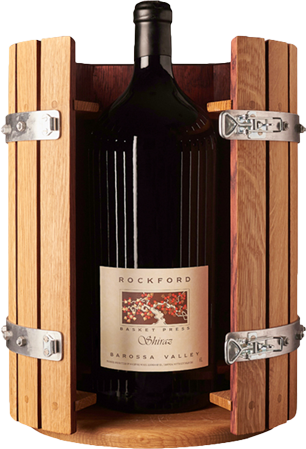 a 6 litre Imperial of 2010 Rockford Basket Press
'...Australia's most prestigious wine region.'
Guests enjoyed a memorable evening, records were broken, and unique wines found new homes. Barossa Grape & Wine Association (BGWA) succeeded in their mission to wave the flag for Barossa, highlighting the importance and enduring appeal of Australia's most prestigious wine region. They also raised much welcome money for the BGWA Well-being Fund to provide active support for people affected by poor mental health. Worthy causes all round.

Since being founded in 1988, Langton's has played a key role in supporting the growth and evolution of Australian fine wine through our Auctions, Brokerage and, of course, Classification of Australian Wine. We are proud to once again be the auction partner for the Barossa Wine Auction.
Browse and bid Langton's upcoming auctions here.